Why should I use your software product?
Which antivirus programs do interfere with Refog, and how could that be fixed?
How do I get rid of antivirus warnings and do so that the antivirus software does not remove REFOG Keylogger?
Add REFOG Keylogger to the list of exceptions in the settings of your antivirus software. If you do not know how to do it, contact the support service of your antivirus program.
I could not find the option "Launch at Windows startup". I would like to disable launching Refog Personal Monitor at Windows startup for a while, how can I do it?
To completely disable launching Refog Personal Monitor automatically at Windows startup, you should select the very top item in the "Users" tree and click the "Stop recording" button
Click here to watch a demo video clip!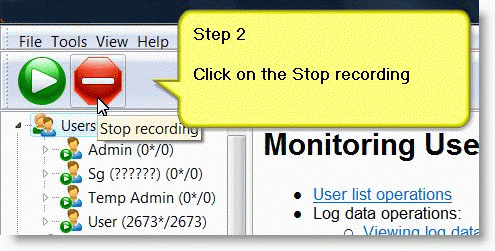 I want REFOG Keylogger to watch not me, but only my children. I have a special restricted user account for them.
Select your user in the tree to the right and click the "Stop recording" button. The user will become black-and-white, which means that monitoring is disabled for this user.
I've hidden all shortcuts and set neither hotkeys nor magic word. How do I open REFOG Keylogger to view the log?
I want REFOG Keylogger to run in the hidden mode. And I want to open the log using either hotkeys or a magic word. Show me how to do it.
Enable the following options:

Invisibility -> Run in hidden mode
Invisibility -> Hide everywhere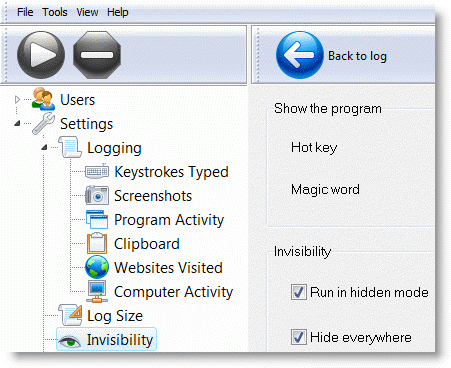 How do I increase the size of screenshots so it would be more convenient to view them?
Double-click a screenshot to increase its size.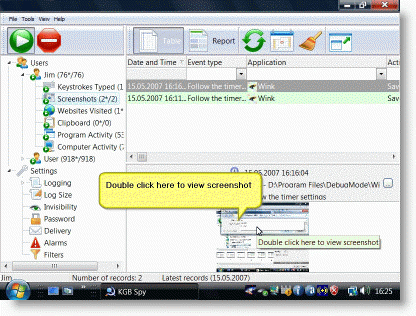 How to make REFOG Personal Monitor track only some particular program, for example, ICQ?
Add this program to exception list on the "Filters" tab.
How do I setup Refog Employee Monitor in our domain based local area network?
I have bought REFOG Keylogger, but cannot register it. All the time I get this message: "Key or name is invalid, please try again!".
Be attentive, the name and the key are case-sensitive. Copy and paste the text to avoid mistakes. Use the mouse to select the name or the key and right-click it. You will see the Copy and Paste items. Copy from the message and paste into REFOG Keylogger.