World's Tiniest Hardware Keylogger
Monitor kids and employees with the world's tiniest hardware keylogger!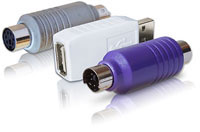 I have been using the hardware keylogger for a while and I am happy with the product, it is being very useful with all the features i need with a very affordable price. I really recommend your product it is very cost effective.
Paulo
Brasil
Features at a glance
Unobtrusive and Undetectable
The new hardware keylogger is completely transparent and unobtrusive, requiring zero resources of your PC. It uses its own CPU and its own memory to intercept and store key presses. Using no drivers or software, hardware keylogger is completely invisible and undetectable by any software.
The new hardware monitor intercepts chats and emails, logs forum posts and comments, captures logins and passwords, and makes archive copies of typed documents stored securely inside the device.
Completely Secure
No one but you can access the logs. Saved keystrokes are protected with a secret password that you can set or change at any time. Hardware keylogger stores everything encrypted with a strong 128-bit key, making unauthorized access to information all but impossible.
Easy to Use
Using hardware keylogger could not be made easier. With no software or drivers to install, it simply attaches to your keyboard and plugs into the first available USB or PS/2 port. That's it! Once plugged, it starts monitoring key presses whether or not the operating system is loaded or the user has logged in.
Accessing the logs is just as easy. Simply press your designated three-key combination on the keyboard, and hardware keylogger appears as yet another disk on your PC. That disk will contain the log file with all saved keystrokes appearing in a clean and clear way.
Use Unattended
Hardware keylogger works completely in background and requires zero attention. Its huge memory capacity of up to 2 GB allows years of unattended operation. The lack of any drivers or software makes hardware keylogger resistant to operating system upgrades, computer restarts, hard disk corruption, and power failures.
Works Everywhere
Hardware keylogger requires no drivers or software. Attaching in between your Mac or PC and the keyboard, hardware keylogger works everywhere! Windows or MacOS, Linux or FreeBSD make no difference whatsoever. Old and new PCs, PS/2 and USB keyboards are supported.
All Types of Keyboards
As long as you have the keyboard, hardware keylogger supports it! PS2 and USB, wired and wireless keyboards are supported, including multimedia keyboards and keyboards with built-in USB hubs. Hardware keylogger supports all kinds of international keyboard layouts, allowing you to intercept keystrokes in multi-language environments.