World's Smartest Wi-Fi Keylogger
Monitor employee activities with the world's smartest wireless keylogger!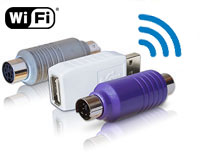 That's what plug-n-play was supposed to be. Connecting Hardware Keylogger takes a second, configuration is dead easy. That's it. The logs conveniently arrive by email – I no longer need to reach for the dongle every time I want to review the logs.
M. Klein
USA
Features at a glance
Stand-Alone Operation
The new wireless keylogger operates completely stand-alone. Featuring a time-stamping module with a built-in battery, KeyGrabber Wi-Fi Premium can work for 7 years without requiring attention. The Wi-Fi keylogger requires no drivers or software, is completely undetectable, and works on any Mac or PC computer. The logs recorded by KeyGrabber Wi-Fi Premium will survive computer reboots, system failures, power outages, and hard drive replacements.
Transparent and Unobtrusive
Connecting between the PS/2 or USB port of your computer and the keyboard, the wireless keylogger is light on system resources. The keylogger has its own CPU and 2 GB of built-in memory, and uses zero resources of the PC. Its huge memory capacity, built-in battery and wireless connectivity ensure transparent and maintenance-free operation for many years.
Secure and Undetectable
KeyGrabber Wi-Fi Premium supports WEP, WPA, and WPA2 for ultimate security. Nothing it transmits over the wireless net can be intercepted. The lack of any drivers or software makes it completely invisible and undetectable.
Logs and Reports Keystrokes
The Wi-Fi keylogger logs every key press and records every keystroke typed by your employees. It intercepts chats and conversations, forum post and blog comments, logs emails and creates archive copies of typed documents. Everything logged by KeyGrabber Wi-Fi Premium is sent by email over a pre-defined period of time. Alternatively, you can always access the full log at any time by connecting over the TCP/IP protocol. Password-protected flash drive mode is available for easy local access and configuration.
Easy to Deploy
KeyGrabber Wi-Fi Premium is super easy to deploy. Just connect it between the PC and the keyboard (USB and PS/2 versions are available), configure it with your WEP/WPA/WPA2 password, and enter e-mail address to send reports to. Once plugged, the wireless keylogger starts recording all keystrokes regardless of whether or not the operating system is loaded.
Works Everywhere
The new Wi-Fi keylogger is compatible with all computers. Requiring no drivers or software, KeyGrabber Wi-Fi Premium works with PC and Mac workstations, Windows, Linux, MacOS, and all other operating systems.
Supports All Types of Keyboards
KeyGrabber Wi-Fi Premium supports all kinds of keyboards. PS2 and USB versions are available supporting all types of wired and wireless keyboards, including multimedia and international keyboards.