Refog Cell Spy - mobile monitor for Android™ devices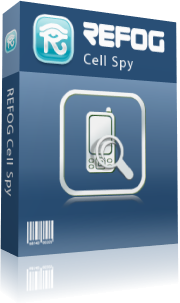 Turn your Android device into a secret spy.
Did you know it is possible to install a small piece of software onto an ordinary Android phone to turn it into an intelligent spy disguised into an ordinary gadget? Cell Spy is installed secretly onto an Android phone, invisible and undetectable to the phone user. Once installed, Cell Spy runs hidden, secretly recording everything that happens with or around the phone, reporting to you via a secure online account. From there, you can access these reports from any Internet-connected PC or mobile phone.

What exactly does Cell Spy capture? You wouldn't believe how much information can be recorded by an ordinary mobile phone!
Intercept SMS Messages
Short Text Messages are a popular way to communicate messages 'securely'. Cell Spy records all SMS messages sent and received, giving you full access to text chats on the device!
Track Phone Location With or Without GPS
With Cell Spy, you will always know where your mobile phone is located, whether or not the phone is GPS-enabled. If your phone has a GPS module, you will know precisely where the phone is. If not, not a problem! You'll see the cell name and cell id information that allows you to approximate phone's location on the map.
Mobile Phone Protection
Cell Spy is a great way to protect your property. If your phone is ever lost or stolen, Cell Spy will tell you where it's located even if SIM card is switched!
Locate Your Phone if It's Lost or Stolen
Combine the two features, Spy Call and GPS Tracker, and suddenly you are able to trace where your lost or stolen phone is!
Take Front Camera Snapshots on Unlock
Every time your phone is unlocked, Cell Spy will record a snapshot image, thus catching a thief portrait if your device is ever stolen.
Access Call History and Contacts
After everything you've read about Cell Spy, accessing a call journal pales in comparison. Still, Mobile Spy enables you to access their call log complete with date and time of each call, called number or Caller ID.
Supported Mobile Phones
Cell Spy is compartible with any device running Androis OS version 2.3 or newer.
Availability
Refog Cell Spy is currently available
Android is a trademark of Google Inc.