Smartphone Spy App

HOVERWATCH
Cell Spy
We are expanding our product line by adding the ability to access your logs from anywhere in the world. Meet Hoverwatch, Refog's new monitoring service! Being able to access the logs collected from all PCs monitored with Refog software from a single centralized location provides nearly endless possibilities. No matter where in the world you are, and no matter where in the world your monitored computers are, you'll be able to review their logged activities by logging into your personal account.
For Windows XP, Vista, 7, 8 and 8.1; Mac OS X 10.7 - 10.10; Android 3.0 - Android 5
Discover your kids whereabouts on the map
Wonder where your kids went last night? Can't reach them by the phone? Learn where your kids are (and were) with Hoverwatch Cell Phone Spy! Hoverwatch is meant to help you protect and supervise your kids, giving you the ability to track their location, discover their daily routes, listen to their calls and read their text messages.
The Cell Phone Spy uses invisible mode to hide in your kids' Android phones, recording their moves and activities without them even knowing. Cell Spy reports to the server periodically, allowing you to log in to your Hoverwatch account and see where your kids are at this very moment, where they have been during the past day, and what they've been doing there.

Features at a Glance
Real-time and historical location tracking
Logs calls and messages (SMS, MMS)
Stores full information about the call: location, Caller ID, date and time
Records conversations
Logs Web sites and other online activities complete with date, time, length and location of each activity
Invisible mode with no app drawer icon or status notifications
Takes pictures of a person unlocking the cell phone
All data available in your account
Your choice of OpenStreetMap or Google Maps (Road or Satellite view)
Compatible with all Android cell phones and tablets
Windows and Mac OS X versions available
Protect and Supervise Your Kids
Cell Spy is made to help you supervise your kids, turning their Android phone into a spying device. With this program, you'll always stand behind their back and know when they need your help or protection. Cell Spy will constantly track their location recording their every step, and watch closely who they speak with and what they talk about.
How to install android keylogger:
Android Loss/Theft Protection
As an added benefit, Cell Phone Spy helps you protect your Android devices against loss or theft by helping you locate your device after it grows legs. Compared to free tracking services, Cell Spy offers greater flexibility by not only reporting the current location of your device but drawing the complete route of your phone's movements. In addition, Hoverwatch Cell Spy will take photos of whoever unlocks the phone, giving you a chance to recognize the new "owner".
Hoverwatch. A Tool that Just Works
Android is a highly customizable platform. There are tracking apps for Android, and there are call recording apps for Android. There are tools that can snap pictures, and there are other tools that can sync data to the cloud.Researching, trying and configuring those tools can be a nightmare for average moms and dads.
Meet Hoverwatch! This all-in-one protection suite does everything those other apps do, and more! Requiring no tweaking and no constant attention, Hoverwatch just works. Simply install the app and enter your account details, and you are good to go!
What's Recorded (and Why)
In order to enable you supervise your kids, Cell Spy has to record, transmit and store certain types of data. The following types of information are recorded and stored in your Hoverwatch account:
GPS coordinates Cell Spy continuously tracks your phone's location using your phone's GPS (satellite), Wi-Fi hotspots and cell towers. This information is transmitted to our server and stored in your account.

Call data
 Information about incoming and outgoing calls including date, time, phone's location, length and Caller ID is recorded, transmitted and made available in your account.

Call recording Voice conversations can be recorded and sent to your Hoverwatch account.

Text messages Cell Spy records SMS and MMS messages sent and received complete with date, time, location, Caller ID, and message text. This information is made available in your Hoverwatch account.

Unlock snapshots Hoverwatch Smartphone Spy App can photograph everyone unlocking your phone. Pictures are sent to your account complete with date, time and location information.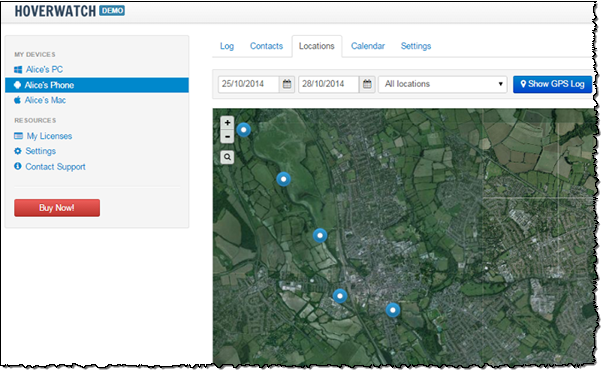 Free to Try
You don't have to pay to try Cell Spy. Just register for a free 3-day account, download and install Hoverwatch Android Keylogger to your kids' Android device.