REFOG Employee Monitor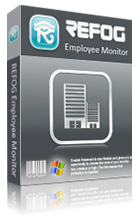 I have to say I have been extremely impressed with the performance on the software. I found it quite shocking to see how much company was time was being spent on social networking and it has been particularly useful in seeing just how people use the internet. This has led to restrictions on who has access to the internet as individuals who said they used it all the time for work, were either on MSN or Facebook.
Сompatible with: Windows 10, 8.1, 8, 7, Vista; Windows Server 2008, 2012, 2016
For monitoring Terminal Server sessions please use REFOG Terminal Monitor
Employee Monitoring Benefits for Your Company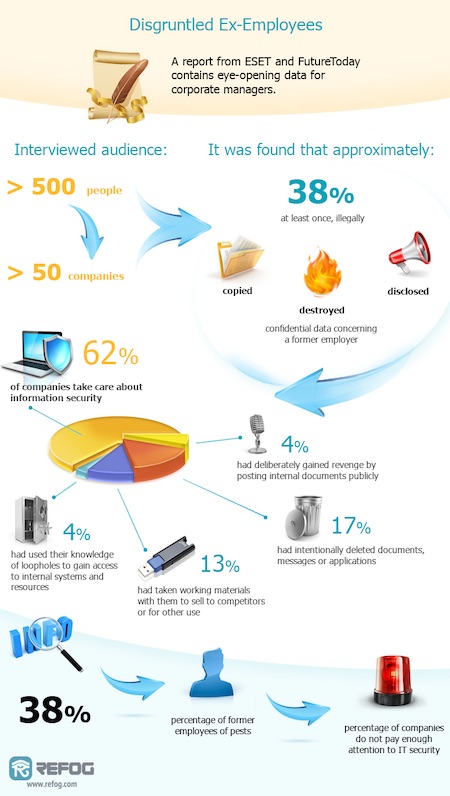 Monitoring workplace activities is a sure way to improve employee productivity. A computer monitoring solution installed in a corporate environment helps control data leaks, investigate fraud and collect evidence in a non-disruptive way. Refog Employee Monitor tracks employee internet usage and their online activities, helping organizations reduce time wasted in social networks, chats and non-business activities.
As with any surveillance system, monitoring employees' computers offers many intrinsic benefits. Various researches show that a "white collar" employee may waste up to 30 per cent of their working day on personal activities. Social networks are by far the biggest time drain, followed by instant messaging applications, shopping and banking. Casual games are not called "office killers" for no reason, being responsible for another cut of paid work-time.
A computer monitoring system helps discipline employees by making them aware that their activities are being watched without alienating staff by outright blocking unrelated resources. By installing an Employee Activity Monitoring solution, companies benefit from improved employee productivity and better enforcement of corporate policies. Monitoring employee internet activity helps prevent and investigate security breaches and reduce risks associated with employee misconduct.
Tracking Employee Internet Activities Helps Mitigate the Risks
Organizations dealing with intellectual property and sensitive information are well aware of the risks related to employee misconduct. Uncontrolled use of portable and removable media, wireless and cloud-based storage options greatly increase risks of leaking sensitive information. While technical measures should be taken to prevent all possible sources of data leaks, fast technological advances make preventive measures trail one step behind.
Tracking employee internet activity and their computer usage provides employers with one more efficient tool to manage the risks and address misconduct. Naturally, the increased risks and constant socializing lead many employers to install surveillance on all computer-equipped workplaces.
Internet Activity Tracking Software
Refog Employee Monitor offers employers the ability to track all or some employee activities such as their pastime in social networks, chatting, launching applications or accessing files.
What exactly is tracked by Refog Employee Monitor is up to the employer. The tool has the ability to monitor all or some of the following:
Activities in all popular social networks
Time spent on certain Web sites and in certain applications
URL's visited in all popular Web browsers
Applications launched and closed
Access to files and documents
Email messages sent and received
Keystrokes (by monitoring keyboard activity)
Periodic screenshot captures
In addition, Refog Employee Monitor offers explicit or invisible mode, provides real-time alerts on pre-defined keywords or stop phrases, and delivers customizable reports by email or via FTP uploads.
Monitoring Employee Internet Usage
Social networks, chats, blogs and forums, streaming videos browser-based games account for more than 80% of all unproductive diversions performed by employees during their working hours. Refog Employee Monitor helps track employee internet usage and monitor employee internet activity without actually blocking or restricting access to any network resource. Comprehensive daily reports present activities split by categories, enabling employers to see who wastes the most time on their workplace.
Non-Disruptive Monitoring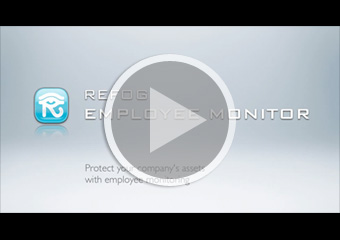 One of the major goals of a good employee monitoring system is increasing employee productivity, not hurting it. While there are many active data leak protection (DLP) systems used in the corporate world, the use of a DLP may not be the best choice for everyone due to the way they handle potential threats.
Proactive filtering, blocking or restricting access to certain resources may seem like a good way to create a technological barrier to employee misconduct. In real-life scenarios, benefits delivered by proactive solutions will outweigh their drawbacks only in a handful of industries. Small and mid-sized companies using proactive Internet shields experience irritated employees and loss of productivity associated with multiple small disruptions in the work process.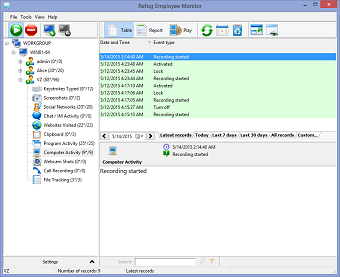 Passively monitoring employee internet usage, on the other hand, does not bring unnecessary disruptions to the usual workflow, while information collected by the monitoring system helps stimulate and discipline employees to a much greater extent compared to preventive blocks and restrictions.
Refog Employee Monitor is a 100% monitoring-only solution. Supporting both explicit and invisible modes, the tool is a perfect solution for increasing employee productivity in small and medium-sized companies. The product's most proactive actions are instant alerts and daily reports sent to a designated security officer.
Here in Refog we strongly believe that this tracking employee internet usage and monitoring employee internet activity is one of the most cost-effective ways to optimize your business.
Terminal Server Monitoring
If you work for a larger company using online terminals and remote sessions, consider the many additional features available in REFOG Terminal Monitor. This tool includes the ability to run on the Terminal Server while tracking, logging and reporting all or select activities of connected employees.