The Complete Tracking Solution for Android
Hoverwatch keeps information about incoming and outgoing calls, text messages, records phone calls and sends periodic reports about the phone's GPS location. In addition, the tool can be configured to take a snap of the user's face every time the phone is unlocked with the phone's frontal camera.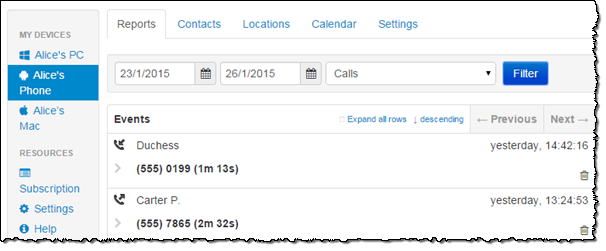 Your Phone. Your Choice
Android market is full of tracking apps, call recording apps and fully blown surveillance suites. Unlike all those apps and services, Hoverwatch aims to include everything you need to look after your kids with no bloat and no complex configuration settings. With Hoverwatch, you are getting all the essentials including tracking the phone on the map, location history, text messages, call information and conversation recording – all conveniently accessible by logging in to a single account.
Track Text Messages
Hoverwatch tracks SMS messages sent and received, allowing you to read text messages in your account. Each message is accompanied by location information, enabling you to see the location on the map where each message was sent or received.
Theft Protection for Your Android Devices
Protect your device against theft or loss! In addition to tracking your phone in background and reporting its exact coordinates on the map, Hoverwatch can take snap photos with the phone's front camera every time the device is unlocked. This feature comes handy when the phone is lost or stolen and you just want to know who has it.
Advanced GPS Mapping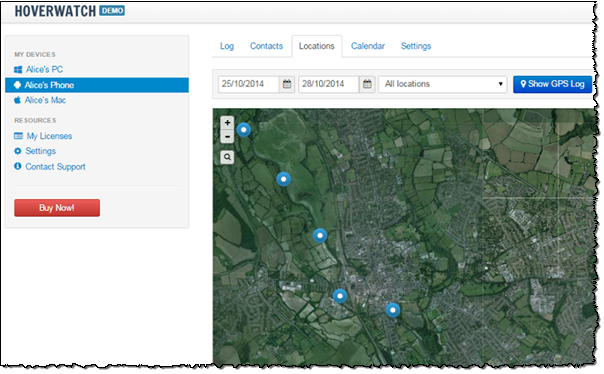 You can see the location of the phone every time your kids make a call, launch an app or send an SMS. You'll know exactly what they did and where they did it. Supporting OpenStreetMap and Google Maps in Roadmap and Satellite modes, Hoverwatch draws a route on the map to let you know exactly where your kids are and what they are (or were) doing there.
It is right for you!
Hoverwatch is designed for families and parents concerned about their kids' safety. The ability to run invisibly in background helps parents look after their kids without them even knowing. Continuous monitoring and periodic reporting to a central location enables access to real-time and historic GPS locations from anywhere in the world. The tracking ability along with stored location information helps find your phone on the map in case it gets lost or stolen, while the ability to snap photos of anyone unlocking the device helps identify the new 'owner'.