What Are Your Kids Doing When You Are Away?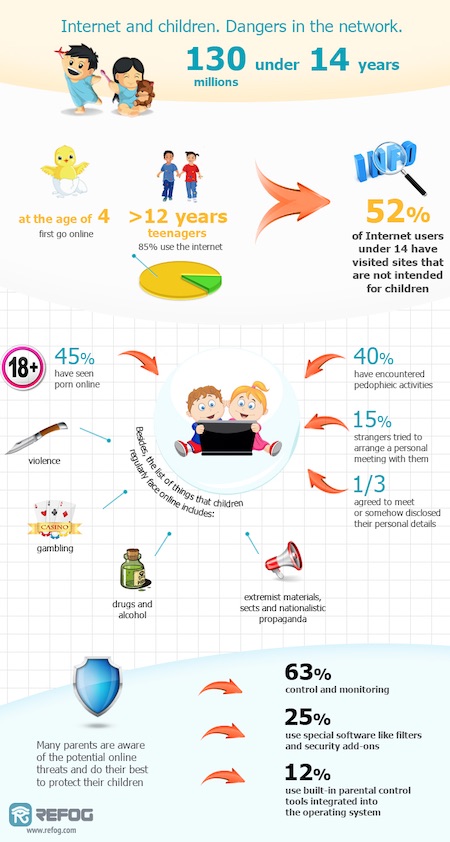 Do your kids use your computers? Kids love gaming and chatting! But how much is too much, and how do you know what exactly they do while they are online? REFOG Personal Monitor helps you protect your kids by looking after them in the most unobtrusive way.
REFOG Personal Monitor helps by logging everything that's happening on your PC while your kids are online. It records everything they type, logs sent and received chat messages, and creates a history of Web sites and resources they are visiting. The tool takes notes on each program that's launched, and records for how long they are used. Skype conversations and voice calls can be recorded to ensure no one molests your children. Custom stop-phrase list alerts you immediately in case a suspected threat is detected.
Protect But Don't Disturb
Designed to run silently in background, REFOG Personal Monitor does not intervene with your kids' online activities, but alerts you immediately if a possible threat is detected. How does it know when your kids are threatened? You tell it! Set up a list of stop words, and REFOG Personal Monitor will alert you in an instant if any such word or phrase is encountered while your kids are socializing.
Family Friendly Operation
REFOG Personal Software is designed to be family friendly. You can install and configure the tool without hiring a tech guy. Using REFOG Personal Monitor is not rocket science either. Still not convinced? Just download your free evaluation version and see with your own eyes!
What's Recorded
The list of things that are captured, logged and recorded is so long it almost makes no sense. Here are just a few things of the long, long list.
All keystrokes typed in all windows, including passwords
Sent and received chat messages
Visited Web sites
Logon and logoff events
Skype chats and voice conversations
Launched programs and games
Screen captures of what's on the display
And much, much more!
Remote Monitoring
Installed REFOG Personal Monitor onto your kids computer? There's no need to use that PC to view the logs! REFOG Personal Monitor offers convenient network access to everything collected by the tool, allowing you to look after your kids from anywhere.
Real-Time Alerts
Sometimes a little late is too late. Reading the logs at the end of day may not be reacting fast enough to adequately protect your children. This won't happen if you set up REFOG Personal Monitor with automatic alerts. This works real simple: you enter stop words and phrases into a special alert list, and REFOG Personal Monitor alerts you automatically every time a stop-phrase is encountered. Alerts can be sent by email or delivered by other methods.
Screenshots
With all the activities going on your PC, it's easy to get lost if all you have is a text log. REFOG Personal Monitor helps you navigate through what it's all about by capturing periodic screen shots of your computer's desktop. These screen shots will clearly show everything that was there at the time of a capture.
Capture Chats and Social Network Conversations
Conversations occurring in many stand-alone instant messengers as well as communication systems built into social networks can be captured, formatted and presented in plain, easily readable shape.