Protect and Supervise Your Kids
Free tracker phone is made to help you supervise your kids, turning their Android phone into a spying device. With this program, you'll always stand behind their back and know when they need your help or protection. Hoverwatch will constantly track their location recording their every step, and watch closely who they speak with and what they talk about.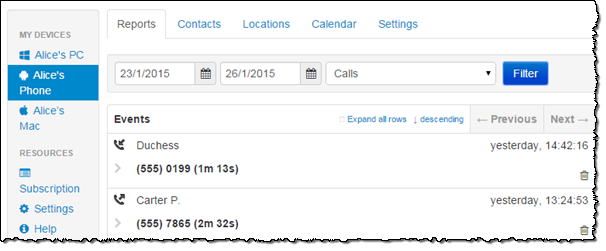 Conversation Recording
Many phone tracking apps offer 'call logging'. However, call logging is very different from actual call recording. With logging, you only get information about the call such as who your kids talked to (via Caller ID), including time and length of the call.
Hoverwatch brings call logging to the whole new level. Hoverwatch maps the location of each call based on your phone's location sensors, allowing you to discover where your kids were when they made or received a call.
Finally, Hoverwatch adds fully featured call recording, allowing you to record conversations made with your kids' phone. You won't need the actual phone to listen to your kids' calls. Simply log in to your account, and you'll be able to listen to their conversations with just a click.
Track Text Messages
Hoverwatch tracks SMS messages sent and received, allowing you to read text messages in your account. Each message is accompanied by location information, enabling you to see the location on the map where each message was sent or received
Single Account. Full Access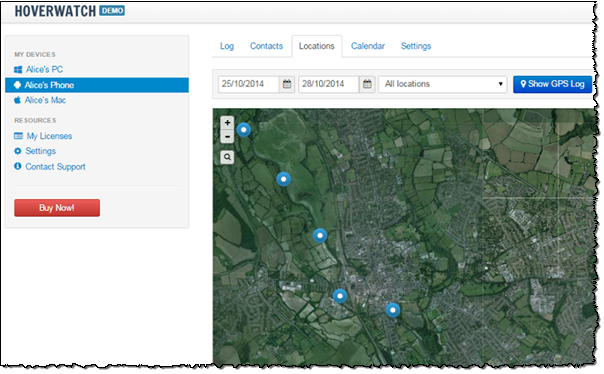 With Hoverwatch, you'll have full access to all tracking information from a single place. Simply log in to your Hoverwatch account, and you'll see where your kids are and what they are up to!
Hoverwatch offers the choice of a map, allowing you to switch between OpenStreetMaps, Google Maps Road and Satellite views, allowing you to use the map service with the best coverage in your area.
What's Recorded (and Why)
Hoverwatch is not a spying app. All information it records is available to you and to you only via your account. The following types of information are recorded:
Location information Location information is collected periodically and on each recorded event by using your phone's GPS and/or AGPS receivers. Coordinates are transmitted to the server and stored in your account. The data is used to pinpoint the location of your phone on the map.
Call data Information about incoming and outgoing calls including identification of the other party (via phone/address book and/or Caller ID) is recorded and stored in your account. The data allows investigating your kids communication patterns.
Conversation recording Incoming and outgoing phone calls can be recorded and stored in your account. This information allows you listening to your kids' conversations from anywhere in the world.
Text messages Text and multimedia messages (SMS) are recorded. They are available in your account.
Unlock snapshots Every time someone unlocks your phone, Hoverwatch can make a snapshot using your phone's frontal camera. This may help tracking down your device if lost or stolen. These images are available in your account.