Features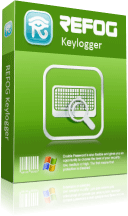 Refog Free Keylogger beats competition in two respects: it's simple to use and it's free. I've seen too many spying products that are bloated with unnecessary bells and whistles and are impossible to use by moms and dads. Not this one. It's easy to install and to use, and it costs nothing. Thanks for a nice product!
Сompatible with: Windows 10, 8.1, 8, 7, Vista; Mac
Keystroke recording
Once installed and running, Refog registers all keys pressed by a user, thus acting as a keylogger. This function captures all data that has been entered by your children or an employee using a keyboard, including chats, usernames, passwords, emails, search queries and other content. In addition to key logging, Refog is also able to log clipboard text.
Web history logging
Even if users delete their browser's history, the informaton is retained in Refog's log database and always available via the reports function. All relevant information is collected including URLs visited, page titles and the timestamp.
Screenshot history
With customizable capability, Refog takes full color screenshots of a desktop screen. This ensures that the log of what is being typed by the user is backed up with visual evidence of exactly what they are doing. Without being monitored, it is often the case that employees get carried away with excessive web surfing, shopping and other personal tasks. With screenshot history, it is always possible to gather evidence if an employee is wasting the company's time. Multiple monitor configurations are supported!
Invisible mode and password protection
You may not want to disclose the act of PC monitoring, so Refog can work in special stealth mode, making it completely invisible even to a skilled PC user. It cannot be found in the program folder, control panel or tray. When required, the program can be revealed using a special command or hotkey. In addition, it is possible to protect Refog with a password, so users are unable to erase their logs.
Application monitoring and file tracking
Refog is able to record all programs executed on your PC, so it is possible to establish if your kid is playing games instead of doing his homework, an employee is wasting time offline (e.g. playing solitaire instead of working). In addition to programs, Refog stores all file operations (e.g. open, edit, copy, delete), and can reveal inappropriate interest in specific confidential documents.
IM monitoring
Refog is also compatible with all major instant messaging software (e.g. Facebook, Whatsapp, Viber, Telegram, Skype & ...). It is not only able to log outgoing messages by a local user, but also incoming messages too.